Welcome to the Sui Generis Wiki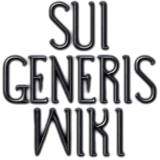 We are currently maintaining 1,854 pages (204 articles).
Please feel free to contribute by creating new articles or expanding existing ones.
Disclaimer: This wiki contains spoilers from insider builds of Exanima. Turn back if you do not want to be spoiled.
Participate
Have a page you'd like to add to the Sui Generis Wiki? Get started by giving your article a name and hitting "Create Page." Edits and improvements to existing pages are also appreciated.
Adding content

If you are unsure of what to do or how to create a page, search for a few articles on the same topic and see what they look like. You can always view the source code in a wiki and learn from what others have done.
An edit doesn't have to be massive; if you feel you don't want to create whole articles, then just fixing spelling errors and broken links is enough.